Vivian Fung Awarded for Top Score by HRMA
---
---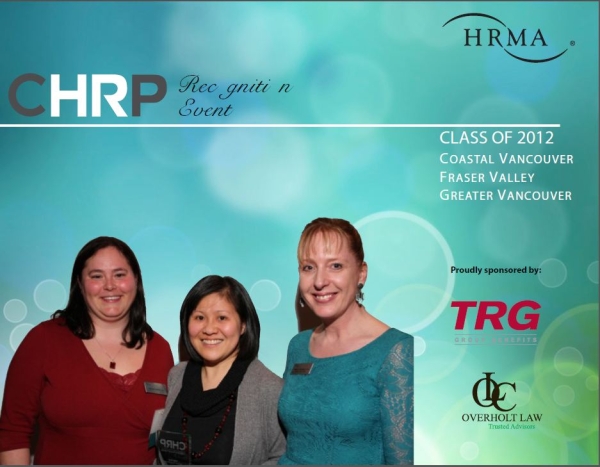 Senior Recruiter, Vivian Fung,  human resources professional at Goldbeck Recruiting  has been awarded for achieving the top score on the October 2012 National Professional Practice Assessment in Greater Vancouver. The award was presented at the British Columbia Human Resources Management Association (BC HRMA) Recognition Event in February 2013.
Vivian attributes her success to hard work and a wide variety of resources. "I gave myself plenty of time to prepare. I researched and kept up with HR blogs, magazines and books. I discussed practice questions with my study group and also consulted my former BCIT HR professor as well as my HRMA mentor on various common HR scenarios" said Vivian Fung.
The NPPA is part two of the two national exams required to obtain the Certified Human Resources Professional CHRP designation. In the first exam called, "National Knowledge Exam," Vivian scored 86%, above the 69% national average score for that exam seating.
Vivian is now part of 21,000 CHRPs across Canada. To keep her designation, all CHRPs must re certify every three years through performing and documenting professional development activities.
Congratulations Vivian and the 200 new 2012 CHRPs!
---
Vivian Fung has over 6 years of recruitment experience with Goldbeck Recruitment as their Senior Recruiter in Sales,, Marketing. She hires for positions such as Marketing Managers, Technical Sales, and Key Account Managers in Western Canada. Vivian specializes in niche industries such as Manufacturing, Industrial and Agribusiness. She has worked for Fortune 500 clients including Black& Decker and Procter & Gamble. Vivian also started a new HR recruitment division in 2011 placing HR Advisors and Specialists in Western Canada.
Prior to becoming a recruiter, Vivian had a successful 6 year career as an Audit and Tax Senior with Ernst & Young, a big 4 international accounting firm. Vivian is currently a mentor with the BC HRMA. She has also been a past mentor and selection committee member for the Vancouver Board of Trade's "Leaders of Tomorrow" group. For the past 5 years, she has worked with the UBC MBA program on salary negotiation skills.
The following two tabs change content below.
Henry E. Goldbeck, President and founder of Goldbeck Recruiting Inc, is a Certified Personnel Consultant (CPC) with over 24 years recruiting experience. In his 13 years at the helm of Goldbeck Recruiting, Henry has built the company's reputation as a leading headhunter and recruitment agency in sales, marketing, operations, engineering, and executive level positions across a variety of industries.
Latest posts by Henry Goldbeck (see all)
---
---