Category: In The Media
First published on Yahoo Finance, Canada
Not everyone may be working their dream job, but it seems as though Canadians like to hang on tight to full-time work. In fact, more than half of Canadian workers haven't looked for a new position in years, according to a new survey by Accountemps, a staffing service for temporary … Read More »
If there was ever a time to make a list, it's now. The new year inspires us to itemize old practices that aren't working and make a checklist of new, innovative ideas.
To be a great manager with an engaged, motivated, happy team, your to-do list is all about tossing motivational techniques that aren't delivering and seeking new incentives to test. Whether you lead a tiny staff at a startup, a group of 60 at a large organization or a handful of pros gathered for a short-term project, finding a leadership style that energizes your team is crucial.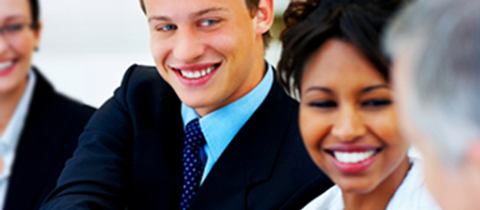 Don't forget to assess drive and motivation when hiring an employee
CC:the tax haven
Camila Louzada: Global recruitment manager, Vision Critical
Interviewing can be an overwhelming experience; trying to assess a candidate's entire history, skills and fit in an hour is quite the task. As a consequence, important questions not directly related to skills often fall through the … Read More »
Article Re-Posted from The Globe and Mail
By JORDANA DIVON
Lobo Consulting Services principal Colin Lobo, centre, confers with his staff on a project in his Mississauga office, March 1 , 2013. (J.P. MOCZULSKI FOR THE GLOBE AND MAIL)
Each week, we seek out expert advice to help a small or medium-sized company overcome a key issue .
Since … Read More »
I recently wrote a piece for The National Journal of Human Resources Management, Canadian HR Reporter. Usually, you would have to purchase a subscription to view this article but, with their permission I was able to get a copy of the article for Goldbeck's Blog. The full Behavioural Interview article is in PDF format and the link … Read More »
---