The Leader's Most Critical Role
---
---
The Leader's most critical role.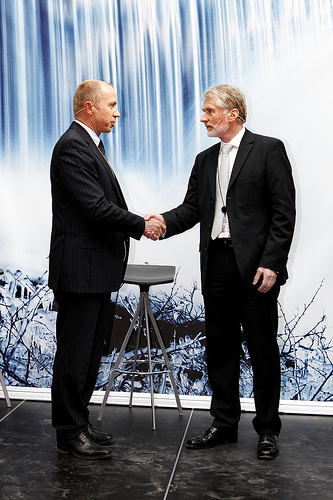 Jim Brown
According to Statistics Canada, the Canadian economy produces an average of 100,000 new small businesses each year.  A small business is defined as one with 5-100 employees.  Stats Can also reports that 85,000 small businesses fail each year.  That's a pretty significant attrition rate.  And as almost half of all Canadians are employed in this sector of the economy, you can quickly understand why they may feel vulnerable.
Analysts who study these failures routinely conclude that one of two factors, and often both, is at work in the demise.  One is insufficient capital.  The owners moved forward before fully determining the cash needs of the company and subsequently they simply ran out of money.  The other primary reason was poor management and leadership.  When you look at it objectively, it really is a chicken/egg kind of issue.  Which really came first…?
What should we take from this?  Because regardless of whether you lead a small business or you lead a segment of a larger company, failure at the leadership level can have fatal consequences.
3 Leadership Skills to Be Mastered
I submit that in most instances, the leader has three skills that must be mastered if the business is to succeed.  In order, they are:
The leader must develop a coherent and realistic vision and strategy for the enterprise.
She/he must then recruit the right people whose efforts can execute the strategy.
Finally, these people need to be trained and equipped with the right tools and equipment that allows them to reach their potential.
Poor Leadership Could Lead To…
If these steps are followed appropriately, then the leader should simply get out of the way and let the team perform.  In my experience, the stumbling block to success most often lies in #2.  These are the key issues that contribute to this problem.
1. The Compromised Hire
The leader compromised their job requirements because they could not quickly find the ideal candidate.  This never leads to something good!  The hiring process is one which becomes emotional.  You have two people who are both in `search mode`.  If you have ever bought a house or attended an auction, you can relate to the emotions that can rise up unexpectedly.  And when you react emotionally, you risk losing your perspective.
Remember that you established your requirements in a quiet and calm space.  Often you consulted others to get input regarding the type of individual you need to find to fill your objective.
When you don`t find that perfect fit, the temptation is to default to a mode that says `OK, you will have to do `.  You have comprised because of pressure to fill the spot.  If you cannot find the perfect fit, JUST SAY NO!  Go back to your drawing board to review your expectations and then restart your search.  To the extent that you are able, keep emotions out of the process.
2. Chemistry is As Important As Competency
Chemistry is as important as competency.   This is true in both small and large groups.  Clearly you must find the skill sets necessary to perform the job.  But you cannot disrupt the harmony of the team by introducing an individual whose character is so out of step with the rest that the chemistry is significantly disrupted.
I am not advocating a team of clones.  Nor am I suggesting that different personalities cannot co-exist.  But you need to ensure that the DNA of the group is consistent across all parties.  To that end, do 360 degree interviews that engage the co-workers of the prospective candidate.  You want to ensure that the current team members will 'have the back' of the new member and have the confidence that the candidate will do likewise.
I have found that taking the attitude that you are not 'hiring' as much as 'adopting' provides the kind of perspective necessary to ensure that chemistry is maintained.   In the final analysis your goal is to find the individual who makes the equation read 1+1=3.
3. Buy What You Can Afford
Always hire the best person that you can afford.  Quality seldom disappoints and the dividends of hiring the best far outweigh the savings implied by finding someone who costs less.  This gets played out in many different ways including better productivity, higher standards, reduced supervision and generally a better image of the organization.
It is equally important to balance your needs with your ability to afford the best.  This is especially true in smaller team environments if the candidate is commanding a significantly higher compensation package than other team members.  Nothing is ever 'secret' for long and you cannot dismiss the impact of resentment if there is no justification for the disparities.
Another area of potential concern is that the new candidate so out performs the rest of the team that the team cannot keep up.  This is will only frustrate the high performer and alienate the others.  Clearly this is an issue that you must manage proactively because you should not accept mediocrity when excellence is possible.
Your people are ultimately your most important asset.  Your strategy and vision may be bang on.  But the implementation is really in the hands of the people you hire.  This is where 'the rubber hits the road'.  Keep these recommendations in mind as you assemble your team and I am confident that you will have taken the most important step towards your future success.
---
Jim Brown has over 35 years of experience in the electronic security and professional video industries. He has held executive level roles with internationally recognized companies such as ADT, Diebold and Panasonic. His last corporate function was directing Panasonic Canada's efforts in the Vancouver 2010 Winter Olympic Games.
 His consulting and speaking company focuses on small and mid-sized companies. His areas of expertise are leadership, strategic planning, employee development, sustainable profitability and succession planning. He can be reached at www.jbbci.ca or jbbrown@bell.net
The following two tabs change content below.
Lougie
Marketing Consultant at Codemedia Inc
Information Technology and Marketing Consultant
---
---