What All Great Interviewers Have in Common?
---
Posted on July 20th, by Henry Goldbeck in
HR Management
,
Recruitment
.
Comments Off on What All Great Interviewers Have in Common?
---
They Shut Up and Listen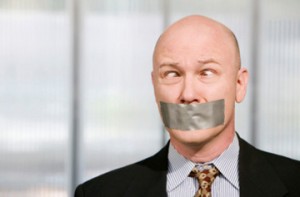 While in the process of scheduling a series of telephone interviews between a client and several candidates the client asked me if I would be willing to conference in and take part in the interview. This does not happen very often, most hiring managers we work with are comfortable conducting interviews and don't need or want us around while they are going about their business.
What was interesting in this case was the honesty and awareness of the employer regarding his sharing his interviewing weakness, he can't stop himself from talking. He would sell his company, the position, tell its history, strategic direction, discuss common industry concerns and at the end of the interview he would feel great about the candidate and want to hire them without any deeper knowledge about the candidate's professional capabilities and expectations.
I have been recruiting for 24 years, and it is still is a regular occurrence to have a candidate call us back after their interview and tell us that they have no idea how the interview went because the interviewer did all of the talking. Granted, there have been many times when I talk too much and I am sure people would like me to shut up but, when I am interviewing it is not one of those times.
Similar to TV and Radio talk shows where the host will have really interesting guests , the host will ask a question and then in the middle of the guest's answer the host will jump in and finish the sentence or answer his own question.
I hate that.
Does it take that much skill to ask a reasonable question and then shut up and listen, why bother asking if you are not willing to listen to the response?
I am not saying that training in various interviewing methods skills is not valuable, on the contrary, it is very valuable and helpful when assessing and qualifying candidates. But those with zero experience and limited training, most people can do a pretty good job of interviewing if they can ask some open ended questions and then shut up and listen. If you can also understand the essentials of what you are looking for in a candidate and be curious about the person then you will do a pretty good job.
If you can get people talking about their career history they will tell you a lot, you can delve deeper by asking for situations. A good candidate will be prepared to present their sample stories. If you let them do most of the talking then then there is a less likely chance you dropped hints of what "you want to hear". If you start by telling them what you are looking for, your company history etc everyone would cater their response to your already set expectations.  This is especially important when it comes to issues like the type of position they really want and other non expertise,  job fit related issues.
The following two tabs change content below.
Henry E. Goldbeck, President of Goldbeck Recruiting Inc, is a Certified Personnel Consultant (CPC) and founded Goldbeck Recruiting in 1997. Since then, Henry has built the company's reputation as a leading headhunter and recruitment agency in sales, marketing, operations, engineering, and executive level positions across a variety of industries.
Latest posts by Henry Goldbeck (see all)
---
---