PLACING SALES AND MARKETING POSITIONS IN A VARIETY OF SPECIALTIES since 1997, our recruitment tactics are tried and true. We have a strong understanding of what makes a good sales and marketing candidate, and can differentiate whether our clients need a niche product specialist or a versatile go-getter. From a Sales Representative to a Director of Marketing, you can be sure that our recruiters will take their time to screen each applicant so that only those that are qualified are presented.
Whitepaper: The Evolution of Engagement
Our team's industry knowledge is as expansive as our decades of collaborative recruitment. By working closely with industry thought leaders, we prepare cutting edge white papers to help businesses forecast. Our latest, concerning sales across manufacturing, construction and automation in a COVID-19 world, is available here.
Sales Recruitment Case Studies

Success Story in Sales Recruitment
A leading Canadian distributor of Industrial Components was founded in 2001 with an amalgamation of a number of smaller related companies. Three years later, it contracted Henry Goldbeck, President of Goldbeck Recruiting, to search sales professionals with experience in wholesale trade and with industry track records in construction, mining, forestry, and manufacturing.
Global Partner in Sales Recruitment
Our search capabilities go beyond Canada and include international sales candidates.
Top Sales Recruitment Agency in Vancouver
Our Sales recruitment division focuses on permanent placements in: account managers, sales representatives, sales directors and business development positions both in Canada and Internationally.
Goldbeck: Sales Recruiting Expert
Recruiting, like sales, is all about relationships and Goldbeck's boardroom has played host to the Sales industry's top-tier talent for over two decades. Those years of our executive search team's collaborative, client-focused search strategies have created expansive networks of the Sales industry's most valuable talent, both in the Lower Mainland and beyond.
In an increasingly competitive market, Goldbeck relies on thorough and efficient processes to locate high quality candidates and place them with speed. We excel in recruitments across varied Sales sectors, including Sales and Marketing, Senior, Specialty, and Technical Sales, and Sales Management, both mid-level and Executive. Our goal is to facilitate connections between our clients and the top industry talent that is precisely suited to their needs, placing an emphasis on both record-breaking sales numbers and compatibility of values, beliefs, and communication styles. This is important to employees, too—according to FirstRound's 2019 survey, only 1 in 10 employees in start-up businesses felt that compensation was the primary reason for them to accept a position. Meanwhile, 40% of respondents felt that the company's mission was key and 55% noted their ability to make an impact at their company, driving sales targets and setting new records.1
Our excellent track record in placing high quality Sales candidates with our clients speaks for itself. But it also speaks to the expansive, nuanced industry knowledge held by Goldbeck's executive search team. Candidates selected to be presented to our clients have been well vetted by the Goldbeck team, making client introductions and hires as simple and efficient as can be. This is an important goal, given the increasing difficulty of finding and securing top performing sales executives. According to FirstRound, a staggering 28.6% of respondents to their 2019 survey stated that finding a sales executive was the most difficult hire they'd made, leading other categories like engineering executives by at least 5%.1 This number is up from 27.3% the previous year, suggesting a growing trend.
All of these are ideas we seek to share with our clients as we approach the recruitment process—we want to demonstrate the importance of choosing the right sales recruitment agencies to best meet the unique needs of a given position. Regrettably, this is not as simple as keyword searching "sales recruiters near me." In our opinion, not even search terms with more specificity, like "medical device recruiter" or "medical sales recruiters near me," will do the trick. This is a business in which relationships remain absolutely integral so that search will only get you part way there. At Goldbeck, a personal investment from our team is a given; we want the opportunity to demonstrate our knowledge in action because the fact is, not all sales and marketing recruitment agencies, nor all medical sales recruitment agencies, nor all IT sales recruitment agencies are made equally.
After all, securing talent which will drive explosive and sustained growth in a given industry requires partnering with a specific type of recruitment agency: one with demonstrated successes. Our process is purpose-built to meet the needs of each of our clients. We start by building a clear picture of corporate objectives to ensure a thorough understanding of company strategies, culture and goals. This is key to identifying the right candidates in our preliminary phases. Then, we search, leaving no stone unturned as we compare possible candidates against the ideal profile we've created in collaboration with the client, whittling down the list to retain only top-choice talent. We use industry-leading technologies to guide these processes, ensuring each is treated with objective-focused rigour. These technologies are immensely powerful tools in the hands of a talented sales headhunter, allowing for the automated verification of disclosed track records, psychometric profiling to infer a candidate's personality, as well as role playing scenarios to test candidate's behaviours in complicated situations. All of these tests and assessments give us a clear picture of the best candidates so that, by the time we recommend our favourites to our clients, we are totally confident in a successful outcome—not only in terms of a general compatibility, but in terms of a track record likely to exceed client goals.
Because, ultimately, while recruiting and sales are both all about relationships, sales is also about making those record-breaking and goal-shattering deals.
In our experience working as sales recruitment consultants and as a sales executive search firm, we've met the best of the best—and we've placed the best of the best. Since 1997, Goldbeck, we've placed sales executives and account executives, sales managers and sales VP's; we've built out entire sales teams in the long-term partnerships we've forged with our clients. All of those placements are intended to do one thing: perform. The funny thing about track records in the sales recruiter business is that our success is our client's success, and we are deeply invested in seeing our clients succeed. Finding precisely the right match is what drives us and you can tell we love what we do because we're so good at it. Give us a call and let's get to work finding your perfect sales executive.
1. First Round State of Startups 2019. https://stateofstartups2019.firstround.com/. Accessed 19 Aug. 2020.
Jessica Miles
SENIOR RECRUITER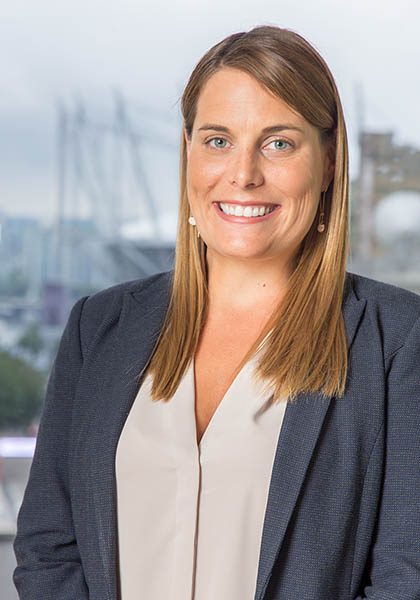 Contact:
604.684.1428 ext 108
Email Jessica
See Jessica's Bio

We invite you to contact us if you are looking for sales professionals in any industry across Canada.
Our Experience as the Top Executive Search Agency in Vancouver
Our sales recruitment division focuses on permanent placements for: account managers, sales representatives, sales directors, business development and more.
As the top sales recruitment firm in Vancouver, Goldbeck has a lot of experience in this area. Here are just a few past job placements that have been covered by our sales recruiter team at Goldbeck:
INDUSTRIES
Automation
Construction
Mining Exploration
Chemical Operations
Real Estate
Import Export
Metals Fabrication
Oil & Petroleum
Pharmaceutical
Biotechnology
Information Technology
Electronics
Executive Search
FMCG
Medical / Pharmaceutical
LOCATIONS
Vancouver, BC
Burnaby, BC
Richmond, BC
Surrey, BC
Victoria, BC
Kitimat, BC
Nanaimo, BC
Williams Lake, BC
Calgary, AB
Fort McMurray, AB
Edmonton, AB
Saskatoon, SK
Havelock, ON
Burlington, ON
Toronto, ON
Western Canada
Eastern Canada
POSITIONS
Account Managers
Sales Representatives
Territory Sales Reps
Inside Sales & Customer Service Industry Sales Specialists Technical Sales
Sales Team Managers
Business Development
Sales Directors
National & International Sales Managers VP of Sales
Construction Sales
Industrial Sales
Manufacturing Sales
IT & Technical Sales
Healthcare & Biotech Sales