Related:


Biotech Talent Recruitment Requires Innovation

Top talent sets a company's course. They want to know they'll be empowered scientifically as part of a diverse and positive company culture.

Read More
Over 2,000 BC-based biotech companies are building a bridge to tomorrow & strengthening the local economy. Meet a few of our big successes.
Biotech companies in Vancouver sit at the forefront of innovation. Significant contributions to the field have been made by biotech and life sciences companies throughout the city and province, helping the sector propel forward at a stunning rate. Also important are the economic benefits of this growing sector. A 2021 study found that over 2,000 companies in BC were employing more than 18,000 people.1 This article will examine just a few of the success stories.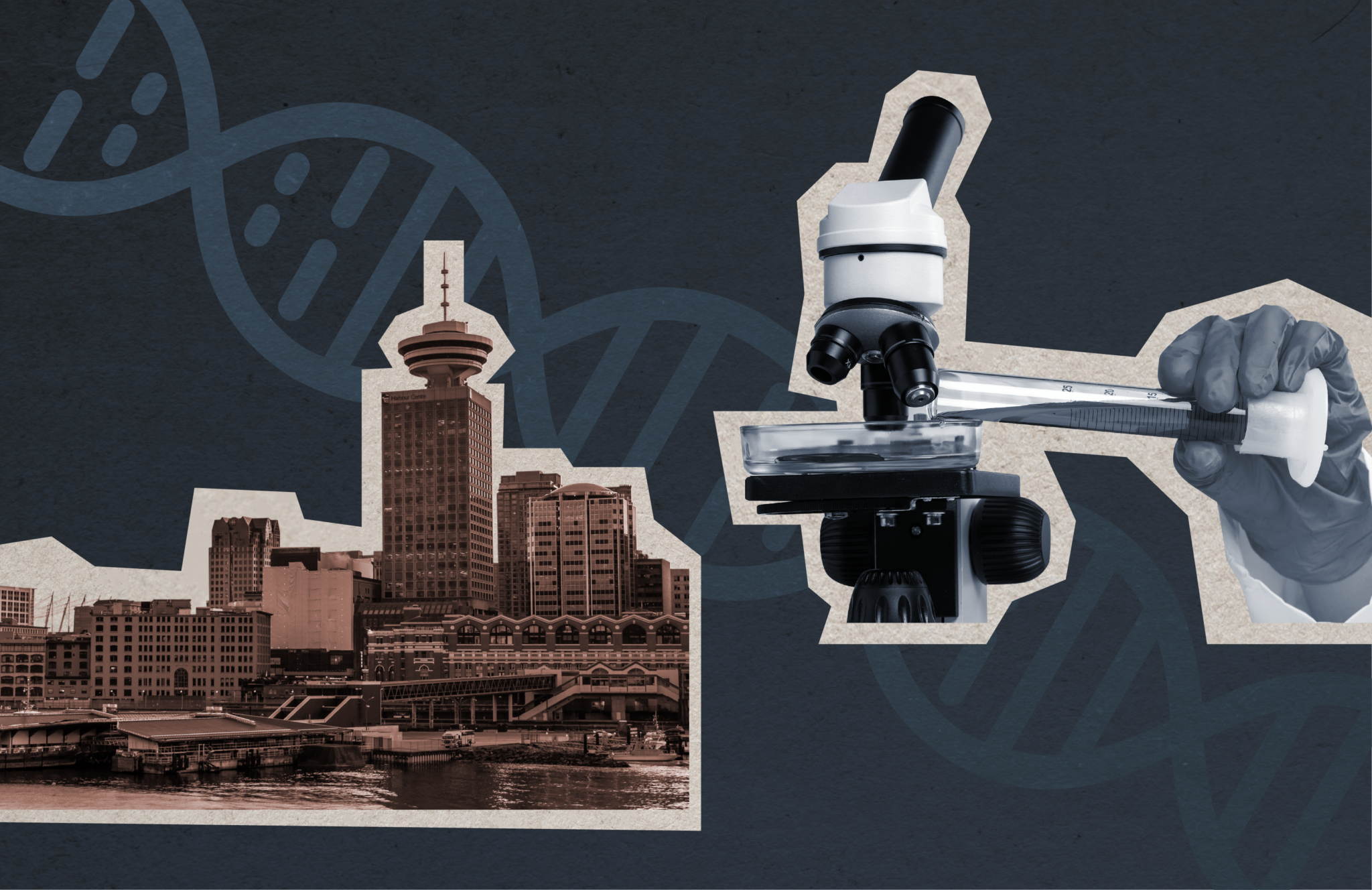 AbCellera Excelling in Antibody Therapeutics
The billions of unique antibodies found within the human body hold tremendous potential for providing cures to common problems. Harnessing this power is the mission of AbCellera, the Vancouver biotech giant whose 2020 IPO broke a Canadian record for the sector with a $15BUS valuation.2
Since starting over a decade ago at the UBC, the company has grown from six employees to 3863, whose expertise covers computational and data science, cell biology, protein chemistry, and biophysical engineering.4
Their bamlanivimab antibody treatment for Covid-19 is just one of the company's many successful developments.2 Over 100 collaborations with 27 different partners have yielded results which help address numerous other ailments.2
Founder and CEO Dr. Carl Hansen believes that such collaborations, along with advancements in machine learning, will ultimately enable the sector to progress at an even greater pace.
"If you made the analogy to the semiconductor industry, this would be like the 1950s," he says. "No one is yet understanding that we're going to have supercomputers in our pockets. Biotechnology is on that trajectory."2
Printing Human Tissues at Aspect Biosystems
According to Aspect Biosystems' website, the Vancouver-based biotech company "applies our therapeutic platform to create implantable tissues that replace damaged organ functions and transform how we treat disease."5 A Globe & Mail profile used more lay terms: "It's the stuff of science fiction."6
Using microfluidic bioprinting, the company essentially prints materials that can be introduced into the human body. While potential utilizations are widespread, the company has used initial efforts to focus on type 1 diabetes and liver tissue.
Like AbCellera, Aspect Biosystems also had its genesis at the UBC, leaving that lab in 2016. The company then raised over $50-million in Series A funding and has been involved in over 30 partnerships around the world.6
Aspect Biosystems co-founder and CEO Tamer Mohamed also concurs with Dr. Hansen, believing that progress will only accelerate.
"In 20 to 30 years, people are going to take for granted that we're able to produce complicated organ systems and actually replace those in the body," he predicts.6
Helping to Feed the World at Semios
Ag-tech giant Semios represents another BC-based success story, in 2020 becoming the 11th BC tech company to reach 'unicorn' status, with $1B in valuation.7 Their all-in-one crop management platform helps producers improve yields while saving time and money.
While agriculture is an age-old industry that has traditionally relied upon handed down wisdom, we now live in the era of data-analysis, which has allowed for even more effective agronomic decision making. With climate change impacting operations on the farm, such technology is key. CEO Michael Gilbert explains.
"When you have a lot of data, you can say, 'Okay, we had a heatwave. Two weeks from now we're going to have this problem and three weeks out, that problem.' Data-driven decisions, machine learning, forecasting—it all becomes so much more important for growers as they deal with these new risks."7
This aspect of the company's value proposition has helped attract investors, including Morningside Group.
"The ability to not only maintain but also enhance the sustainability of our food systems amid the complex dynamics of a changing climate is one of the world's most pressing needs of our time," says Morningside investment manager Mick Sawka. "Semios is a leader in helping farmers respond to this challenge and we're proud to stand beside them."7
Too Many BC Biotech Successes to Name
While the aforementioned companies are great examples of the sector's success in Vancouver, they're hardly the only ones.
Acuitas, who specialize in the development of delivery systems for nucleic acid therapeutics based on lipid nanoparticles received Life Sciences BC's award for Company of the Year in 2022.8 Zymeworks develops novel medicines for patients with difficult to treat cancers and other serious diseases.9 Factors Group of Companies specialize in the research, development, manufacturing, and distribution of High Quality Nutritional Supplements and Vitamins.10 In all, there are simply too many contributors to name.
"The future of medicine is happening right now, right here in Canada," says UBC Vice-President, Health, Dr. Dermot Kelleher. "BC is poised to become one of the world's leading biotech and manufacturing hubs."11
Cited Sources
1"Acuitas Therapeutics to Receive Life Sciences BC Awards." Accessed March 17, 2023. https://acuitastx.com/wp-content/uploads/2022/08/LSBC-Company-of-the-Year-Award.pdf.
2 Jennifer MarronJune 22, 2021. "The Vancouver Biotech Company on a Mission to Help the World – Disruptors, an RBC Podcast." RBC Thought Leadership, July 22, 2021. https://thoughtleadership.rbc.com/the-vancouver-biotech-company-on-a-mission-to-help-the-world/.
3 "ABCELLERA." Wikipedia. Wikimedia Foundation, March 1, 2023. https://en.wikipedia.org/wiki/AbCellera.
4 "A UBC Research Group Spins-out an Industry-Leading Biotechnology Company." A UBC Research Group Spins-out an Industry-Leading Biotechnology Company | Innovation UBC. Accessed March 17, 2023. https://innovation.ubc.ca/innovation-stories/ubc-research-group-spins-out-industry-leading-biotechnology-company.
5 "Aspect Biosystems: Bioprinting Tissue Therapeutics." Aspect Biosystems | Bioprinting Tissue Therapeutics. Accessed March 17, 2023. https://www.aspectbiosystems.com/.
6 Moore, Dene. "How Star Trek Inspired This Biotech Company to Create Living Human Tissues." The Globe and Mail. The Globe and Mail, October 20, 2021. https://www.theglobeandmail.com/business/article-how-star-trek-inspired-this-biotech-company-to-create-living-human/.
7 Matthews, James. "Semios, Now $100M Richer, Has Gone from Greenhouse to Powerhouse to Unicorn." Vancouver Tech Journal. Vancouver Tech Journal, September 29, 2021. https://www.vantechjournal.com/p/semios-michael-gilbert-unicorn.
8 "Main." Acuitas, February 28, 2023. https://acuitastx.com/.
9 "Making a Meaningful Difference." Zymeworks, January 25, 2023. https://www.zymeworks.com/.
10 RocketReach. Accessed March 17, 2023. https://rocketreach.co/factors-group-of-companies-profile_b5dbc823f42e52a3.
11 Mar 15, 2023 | For more information. "UBC-Led Biomedical Innovation Hub to Accelerate Development and Manufacturing of Lifesaving Medicines for Canadians." UBC News, March 14, 2023. https://news.ubc.ca/2023/03/15/canadas-immuno-engineering-and-biomanufacturing-hub/.