GOLDBECK RECRUITING offers specialized Human Resources ready-made templates, with corresponding consulting services, to support the recruitment process and provide clients a quick and easy way to integrate human resources best practices into the business at every stage of employee engagement. This unique partnership between Recruitment and Human Resources strengthens your business and enhances your return on investment when hiring new talent.
Goldbeck's Human Resource offerings provide a menu of strategic human resources templates, at a fraction of the time and cost to develop these templates in-house.
These services compliment your in-house human resources personnel and are customizable to the business. All templates have been developed using HR best practices and are compliant with governing workplace legislation. When implemented, the templates can have a significant impact on employee retention, engagement and productivity, as well as on your company's financial bottom line.
Billed at $100.00 per hour, Judy Slutsky, CPHR, works quickly and effectively, and provides value for service. Get a free quote on the Human Resources templates/services that your business needs right now!
HOW CAN HUMAN RESOURCES IMPACT RECRUITMENT?
Pre-Recruit
When getting ready to recruit, the likelihood of success will improve by investing time to get organized and really understand what you need and how much that is worth to your organization.
The Search
Plan to dedicate a good amount of time to headhunting as it is critical to success. Finding and engaging potential candidates is important as most quality hires are not actively applying for jobs.
Making the Hire
Now that you have a list of qualified and interested candidates, it's time to process them. This means reviewing their claims, getting to know them, and seeing whose goals align best.
Human Resources Sample Services
COVID-19 and a new workforce – est. 3 hours per policy
Develop policies, procedures related to COVID-19, Health and Safety policies, compliant with legislation and company employment practices
Pre-Hire
Job Description – est. 7 hours per position
Develop the key performance and behavioural criteria
Align job descriptions to meet financial and operational objectives
Skills Gap Analysis & Recruitment Plan – est. 25 hours, up to 20 positions
Conduct a skills gap analysis to determine necessary job skills to meet updated business objectives in 2021
Develop a recruitment plan to add missing talent
Onboarding
Probation Review Template & Process – est. 5 hours per position
Provide newly hired employees with performance feedback
Onboarding Process – est. 5 hours per position
Provide a detailed onboarding and training program for new employees to learn key requirements of the job
Offboarding
Exit Interviews – est. 2 hours per interview
Receive unbiased feedback from outgoing employees to enhance aspects of company culture, management, human resources programs
Outplacement Programs – est. 8 hours per past employee
As part of an employee termination package, provide employees with a framework from recruitment experts, to transition to a new position
Active Employees
Employee Engagement Survey – est. 15 hours
Develop an online survey using Gallop Q12 questions, as strong predictors of employee engagement in a remote workforce (job satisfaction, retention, performance, communication)
Develop/update business Human Resources plan based on survey results
Performance Management Program – est. 50-60 hours for 20-50 employees
Update/Develop a performance planning, review and goal setting program to provide structure and incentive for employees to perform at work
Performance improvement plans
Compensation Review – est. 2 hours per employee
Conduct a salary/hourly rate review to ensure your business is competitive with the external market conditions for similar jobs
Judy Slutsky
We invite you to contact us if you are looking for assistance in the Human Resources sector.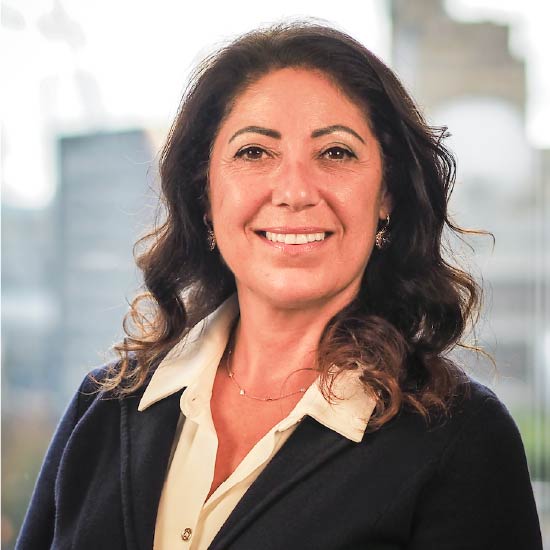 Human Resources for Recruitment Across Industries
After nearly thirty years in business, there's one thing we know for sure: without Human Resources, companies cannot reach their full potential. (For the record, we do know a few other things, too!) In popular culture, HR is often regarded as little more than a lagging, killjoy, wet blanket that tamps office fun. In reality, the human resources department is responsible for maximizing productivity, retention, and growth on both macro and micro levels; great HR is what enables consistent, smooth growth.
These are big claims, but we can back them up. It's simply common sense that, at the root of every successful company, are people. Without happy, engaged employees and bold, visionary leadership, no company can realize its ultimate potential. Human Resources is the department responsible for facilitating the health, happiness, and commitment of people in the workplace. This proposition is at the root of how we recruit and how we support our clients through the placement process. Without great people, you won't have a great business and without Human Resources, it's hard to keep great people.
Human Resources is Crucial To Recruitment
Goldbeck Recruiting has been pleased to collaborate with Human Resources Consultant Judy Slutsky over a number of years. Judy's expertise has repeatedly proven HR's indispensable value; in the course of her consultations with Goldbeck, she has facilitated dozens and dozens of placements across industries.
It's crucial to have this expertise at hand; recruitment runs smoother and faster when a Human Resources professional is involved. As such, HR is central to our placement process.
Human Resources professionals are key to staying in step with the pulse of an industry in ways that leadership shouldn't have to. Especially as we grow our companies in the long term, it's difficult for leadership to remain plugged in to the specifics of commensurate compensation and job trends across the industry—simply because leading a company is, itself, a full time job. HR professionals bring finely articulable knowledge on industry compensation, benefits packages, vacation packages, and employee success programs; all of which, when managed well, make your company more attractive to top talent.
Human Resources professionals bring this deep and evolving industry knowledge to the recruitment process. They are best suited to suss out a candidate's "fit," a dynamic which we consider integral to successful recruitment. In addition to ticking the boxes of an excellent candidate on paper, we also need to know front runners will fit with your company culture. Human Resources professionals are best tooled to determine this match, using both state of the art personality tests and strategic interviews. Without a great fit, we can't guarantee long term placement—and that just doesn't meet our standards. HR experts help us make our biggest promise: we guarantee a great fit or we waive our fees.
Human Resources Builds Your Company's Reputation
Human Resources is essential to making your company attractive to potential candidates. Especially during periods of economic uncertainty, top talent is reticent to move to a brand new role; people want, and need, stability. This is where HR is so beneficial for both you and the candidate. they are not only able to negotiate a competitive and personalized compensation package, but will also ensure smooth onboarding, a cohesive and positive recruitment reputation within your industry, and that top candidates leave their interviews feeling positively about your company.
This is of vital importance for companies of all sizes: if you can't attract and retain top talent, you are putting your company at a disadvantage.
Human Resources Is For All Industries
In our years recruiting, we've seen, plainly illustrated, the specificity and nuance required of identically titled roles across industries. A project manager in accounting and finance is not the same job and requires different skills than a project manager in life sciences, or manufacturing, or construction. The same is true of HR professionals.
First, HR must recognize the niche requirements of the industry in which they work. Second, HR must also fill those niche requirements themselves, as a human resources manager in accounting in finance has different concerns and different experiences than a human resources manager working in other industries!
These two requirements illustrate just how specific and important the knowledge contributed by HR professionals really is to the recruitment process. That's why, for every placement we agree to take on, we ensure total visibility for our HR team so we can find—and secure—the best candidate for your role.
This process generally involves consultation with you, our client, on the specifics of the role needing to be filled, including challenges that the role has faced in the past such as high turnover or instability, etc. Then, our HR experts will carry out industry snapshot research to capture sentiment across the playing field, giving us information on competitive salaries, how roles like the one at hand may be shifting and changing, and general industry trends that will impact your recruitment and your candidate's success. Our HR experts even have a hand in the interview process, which takes place after we've whittled a long list down to just the top candidates.
Our primary assumption is that people are the core of any businesses' success. The same is true about our very own HR professionals. This process is integral to fast, effective, and successful recruitment.
Ready to take your recruitment to the next level with purpose built Human Resources consultation? Get in touch.