International Recruitment Agency
Goldbeck Recruiting is one of the top international recruitment agencies located in Vancouver, BC. We successfully make placements from our 8 main recruitment divisions: Sales & Marketing, Engineering & Skilled Trades, Healthcare & Biotech, Accounting & Finance, Industrial & Construction, Production & Operations, Information Technology, and Executive Search. Although the majority of our job placements are in BC, our recruitment services have global reach and includes the following areas:
Western Canada Toronto United States China & Asia Pacific Europe & UK Mexico & Latin America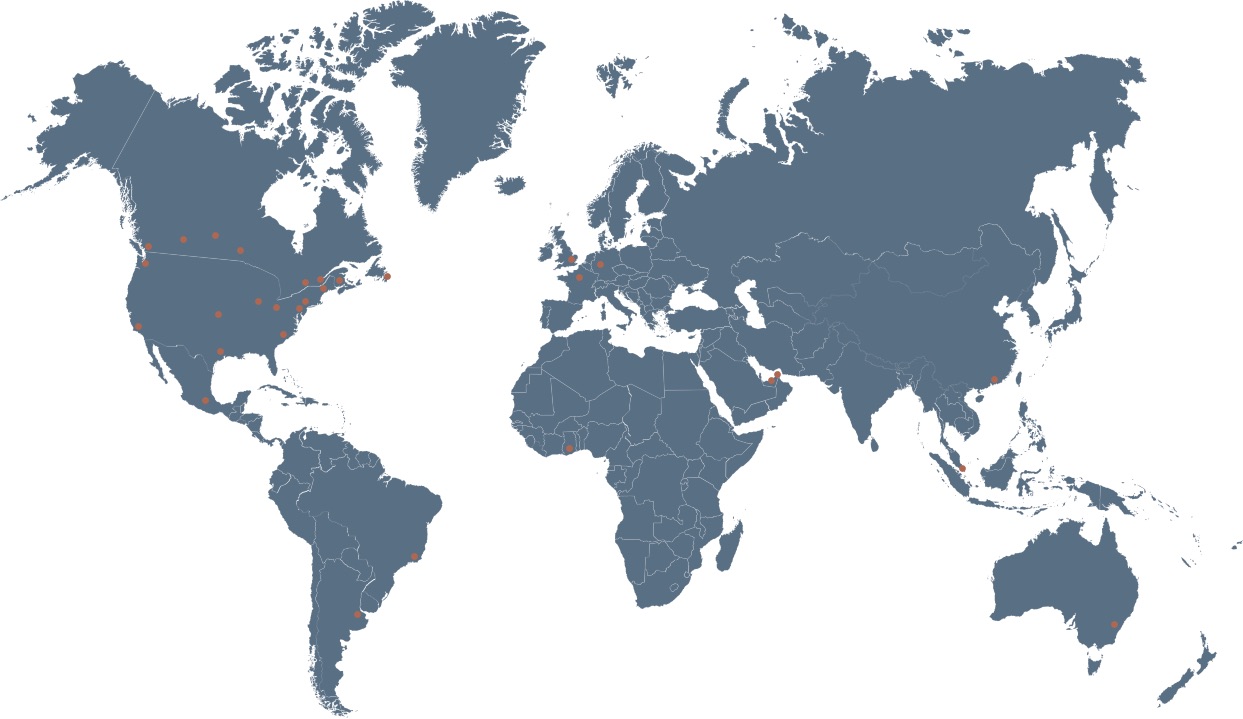 Our Global Partners
Goldbeck Recruiting Inc. is a member of InHunt World, a global headhunting network that connects the best local headhunting companies around the world. The partners are always carefully selected and tested before joining so that our customers can trust that they will receive the best headhunting service every single time, no matter where in the world the need is located.
St-Amour & Associates is Goldbeck Recruiting's trusted partner for Eastern Canada. They are professional headhunters specialized in searching for executives and professionals in Quebec, Ontario, and other Canadian Eastern Provinces.
Goldbeck Recruiting's newest partner is Merc Saudi, an international recruitment firm headquartered in Guadalajara, Mexico, with extensive recruiting operations throughout Latin America and the Middle East. Goldbeck's partnership with Merc Saudi allows us to expand our client services to industrial construction and operations in the Middle East, North America and Latin America.
We also work with recruitment partners across the globe in specialized fields where necessary.
Clients Around the World
Below is a list of some of the clients around the globe that we have serviced throughout our recruitment experience.
ACUVA Technologies
AdvanTec Global
AVW Telav Audio Visual Solutions
BC Comfort Air Conditioning Limited
Black & Decker
Bombardier
Bosch Rexroth Canada
California Closets
Cambridge Global Payments
Canadian Wood Products
Carmanah Design & Manufacturing
Cartel Enhanced Cellular Systems
Cartel Systems
Carter Forest Products Inc.
Central Parking Corporation
Cintas Uniform
Clearbrook Ironworks
Cloverdale Paint
Cobra Integrated Systems
Coca-Cola
Core Mechanical
Creo Products
CRI Canada
Dawson Construction Ltd.
EA Sports
Ecco Manufacturing
Elite Farm Services
Emco HVAC
Emergent System
Europcell
Farwest Freight
Faucher Industries
Freegold Ventures
Gateway Computers
GE Mortgage Insurance
Golden Boy Foods
Gordon Lathams
Green Shield Canada
Heatherbrae
Hitachi Koki Canada Co.
Labatts
Ledalite Architectural Products
MacDonald Dettweiller
Maverick Real Estate
Motorola
Newworld Technology
Norske Canada
Nova Biomedical
OCE Canada Inc.
Panasonics Canada
Pangea Logistics
Paragon Pharmacies
Pioneer Standard Electronics
Purolator
Real Networks
Response Biomedical
S&S Industries
Sajo Construction Inc.
Scotia Bank
Sharp Environmentals
Sodisco-Howden Group Inc.
St. Amour & Associates
Stoncor Group
TD Bank
Telrad Technology Group Ltd.
Telus Corporation
Tim Hortons
Timberlink Australia
Unisource
Voice Mobility Inc
VSM Med Tech
WorkSafe BC
The Goldbeck Touch
Our team strives to provide excellence in our recruitment services to establish mutually rewarding relationships between our clients and candidates. Advantages to choosing Goldbeck Recruiting:
Recruitment expertise since 1997
Fast to deliver with average hiring process taking 4-6 weeks
6 months guarantee – one of the longest in the market
Alternative sources reaching a hidden candidate pool
Unique sourcing techniques tailored to your industry
Dedicated recruiters that take your requirements seriously
Extra effort to understand your company's work environment and culture