Can young folks talk face to face? Can offices survive? Can I speak with a $%#* human? Questions from the supposed communications apocalypse.
"Can I do my job interview over email?" That's not a joke, but an actual question that Senior Recruiter Vanessa Cox has heard more than once.1 Of course the answer is "no", but the practice could become commonplace in the future.
Like the Barenaked Ladies sang on Enid, maybe it's fair to say there's a lack of communication. Digital tools offer increasing convenience, contributing to a society that sometimes feels like it's losing its grip on the art of face-to-face conversation. Is accountability vanishing as we stand brazenly behind a digital façade? Sometimes it's difficult not to bang your head against the wall. Let's decide where we are and discuss where we're going.
Digital Killed the Water Cooler Star
"Our society seems to be moving away from talking," says Executive Assistant Ciaran Henderson.1 "Younger generations are favoring digital communications at the expense of conversation, which poses a challenge when trying to build effective teams. It's a little sad."
Psychologists will spend generations sorting through the effects of today's concurrent cocktail of factors. An isolating pandemic. The rapid ascension of digital technology. The adoption of the 'work from home' model. While there are benefits to be sure, we seem in danger of losing not only our workplace efficiency, but our ability to chat. What would our ancestors think? How about our descendants?
Ghosting Job Interviews
The first rule of job interviewing? Show up! Increasingly, candidates simply don't! Goldbeck Recruiting President Henry Goldbeck1 reports that they often don't even bother to cancel.
"It was once an unusual circumstance for a candidate to miss an interview," he says. "Today they may not even phone or send an email, but simply pretend that the appointment never existed."
What's even more shocking? Hiring companies will sometimes seek to reschedule!
This, ultimately, is a matter of market dynamics: candidates blow off interviews because, in an employee's market, they can! The landscape for no-show candidates would be much less forgiving if they found themselves in an employer's market.
One might even consider this candidate-induced runaround to be poetic justice, given the age-old practice of hiring companies being less than forthright with interviewees. Regardless, it's still bad manners and potentially damaging to a candidate's reputation.
"Unless there was an emergency, I don't trust a candidate that doesn't show up," says Henderson. "If they do that during the first step of the process, what will they do further down the line?"
Obviously circumstances change and there can be legitimate reasons for missing an interview, but candidates should understand that cancelling ahead of time in a professional manner is the bare minimum.
Culture of Instant Gratification
Could it be that people have gotten tighter with their words and looser with their actions simply because they're no longer forced to look people in the eye? Cancelling social plans, once a logistical impossibility after leaving the proximity of your home's landline, can now be done via text in a cold, impersonal instant. Finding a date once required gumption, but can now be achieved with an operational phone and a single functioning finger. If that dynamic is indeed the future of the workplace, it will be difficult to build teams that thrive.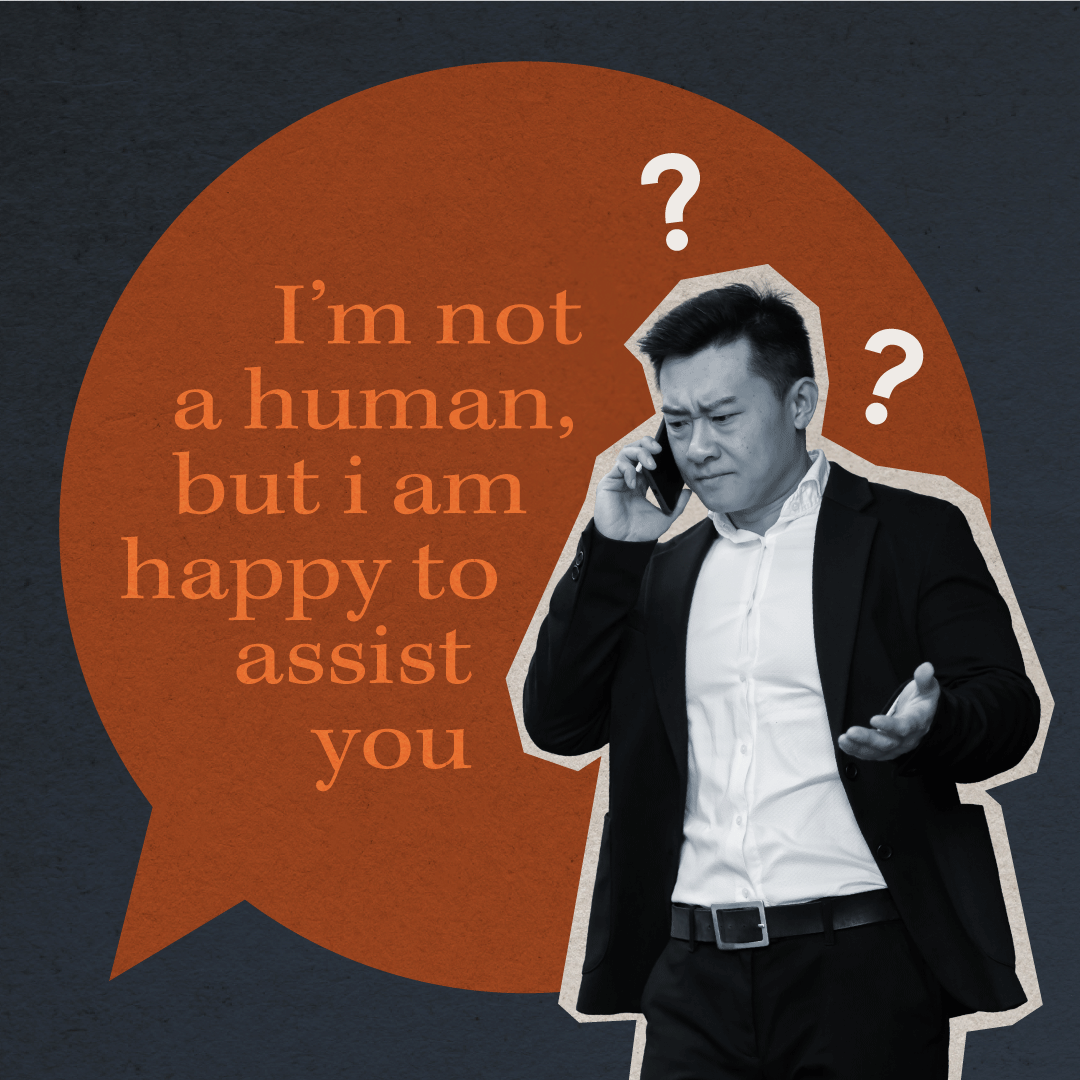 Can I Talk to a #@$% Human?
It's not just communications with colleagues and candidates that is suffering, but customer service as well. While chatbots, apps, and phone mazes are increasingly being tasked with handling customer inquiries, at least one survey finds that 75% of respondents crave some of that old fashioned human to human company contact.2
Lest this scribe sound too much like 'old man who yells at cloud', it's important to acknowledge that there are advantages to these new customer service technologies. At the end of the day, it's timely and satisfactory results that people are after but the lack of personal contact still feels like a lost opportunity to build a stronger customer-brand bond.
Maybe the Kids Are Alright
Now that we've sufficiently eulogized the artform of communication, maybe it's time to consider the larger picture.
Counter-intuitively, research finds that 84% of Gen Z (born between 97-2012) actually prefer in-person communication over text and email.3 What's important to note, though, is that they consider video chatting to be 'in person'. Maybe therein lies the takeaway: digital communication is not going to disappear (nor should it), but neither is the 'in-person' conversation. What's needed is a hybrid approach to communication that will seamlessly merge all avenues. Technology will continue to change and our approach to communication must also keep pace.
This, of course, best describes what we endeavour to achieve today. Maybe the foundation of our approach isn't what's broken, but the current details. What's clear is that, no matter the medium, we must work to ensure that communication remains professional, accountable, decipherable, and fluid. Our success in the workplace (and our mental health) depends on it.
Cited Sources
1 Direct contact with members of Goldbeck staff
2 The verdict is in: Customer Service isn't human enough – inc.com. Accessed September 13, 2023. https://www.inc.com/amy-balliett/the-verdict-is-in-customer-service-isnt-human-enough.html.
3 Yec. "Council Post: Understanding Generation-Z's Presence in the Workplace (and Why It Matters)." Forbes, February 16, 2023. https://www.forbes.com/sites/theyec/2023/02/15/understanding-generation-zs-presence-in-the-workplace-and-why-it-matters.